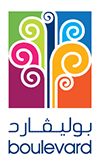 BOULEVARD IS THE ULTIMATE FAMILY DESTINATION TO PLAY, CHILL, AND SHOP
At the heart of Salmiya, Kuwait's most vibrant district, Boulevard stands as a unique urban hub for recreational, social, commercial, natural, and touristic attractions.
Boulevard Park, comprising 80% of the project's total area of 325,000 sq meters, was designed to promote uniqueness in every aspect. It features lake, a fountain, world-class gardens, water streams, fully equipped sports fields, children playgrounds with special games for those with special needs, a restaurant village, a luxurious spa, an amphitheater and a multi-purpose events hall.
Boulevard Mall is the one-stop shopping destination that embodies a diverse array of retailers, cafes and restaurants. The entire mall is equipped with a full range of facilities that guarantees convenience of both its visitors and tenants.
This unprecedented mix of in-door and out-door services, activities, and facilities

empower Boulevard to not only become Kuwait's most prominent touristic destination, but also to contribute to the local community's social and economic development
7 gates overlooking 4 main streets
FIND YOUR FAVORITE STORES AND BRANDS NOW
Looking for a place for your business in Kuwait's premium touristic destination?